TradeShark Betfair Tennis Trading
Make money trading tennis
1-2-1 Support from Pro Trader
Low Risk Tennis Trading Strategies
Learn how to make money on Betfair trading tennis matches.
I will teach you what I have learned since 2008. I now trade tennis for a living. My proven strategies and powerful teaching technique will speed up your learning process.
You will learn:
How the Betfair price is affected by what's happening on court.
How you can use price changes to secure a profit on both players.
How to spot when a player is at a "value" price and how this can help your trades.
How to manage your trades in play to take some of the stress away.
Why trading is less risky than straight betting.
"In our opinion, there isn't a tennis trading service out there to even come close to rivalling TradeShark Tennis." – Goalprofits.com
Perfect for beginners!
The tennis trading course has everything you will need if you are just starting out with tennis trading.
As well as 10 strategies with demo videos you will learn about stake size, bank management and also confidence management.
Tips on how to keep disciplined will also help you to make steady progress.
You also get lifetime support from a Pro trader.
Have some experience?
The tennis trading course will also also help you to progress and improve your results.
I have been trading full time since 2010 and can help you to cut down on those annoying mistakes that have been holding you back.
Keep me up to date with how your trading is going and I can keep you on the right track.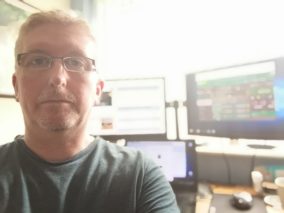 Paul Shires found Betfair trading in 2008 and quickly worked out ways to make money on the tennis markets. He has been trading tennis full time since 2010 and enjoys sharing his knowledge with any new traders who are prepared to put the work in. He has 30 years experience of coaching and training others and will tailor the course to the individual trader.
"More than happy to recommend the service offered by Paul. Ever helpful and offers a great service for the members, especially for the cheap lifetime membership price!" – Steve
This is NOT a get rich quick trading system. It takes practice to become consistent at anything in life. I will be with you from day one to make sure you get the very best from my course. I am very proud of how many new traders I have helped.
My aim is not to let you copy my trades but to make you self sufficient. If anything in the course does not make complete sense you just email me and I will not quit until you understand fully. You get that level of support for as long as you need it.
You also get FREE updates of the trading course. FOREVER.
"Paul really knows his stuff – there's no waffle or empty promises, just good direct trading advice (what do you expect from a Yorkshireman?) that you know comes from an expert, but is easy to follow." – Dylan Younger
Simple Trading Strategies with Demo Videos
The main purpose of the course is to show you how the Betfair tennis markets move. The best way I have found to do this is to break trading down into simple techniques. By using these techniques you will become familiar with the tennis markets and will be able to match your trading plan to the match situation.
There are also beginner techniques that are designed to get new traders involved in the markets. I also include my favourite trading strategy that I use EVERY day.
Information on the top 100 men and top 100 women players
Something that really gives your tennis trading a boost is knowledge of the players. The players all react differently to certain match situations. If you don't know too much about the players I can help!
In the Members Area is a spreadsheet with info on the top 100 ranked men and women. This gets updated after every season.
I also have a daily Trading Tips email service. I give you information, stats and advice on all the day's matches.
If you buy the Betfair Tennis Trading Course today you get these emails FREE for 10 days.
Get the Betfair Tennis Trading Course TODAY!
"…you have one of the best trading products on the market and you price it way too cheaply for that! " – Graham Laurie from the Cashmaster blog
JUST £39
I have a BUNDLE OFFER of the Trading Course plus 2 months of my Trading Tips emails for £49 which is a saving of £30. You can select this offer below.
(Please note that if you would like to pause the trading tips emails until you have gone through the Trading Course that is fine. Just email me to let me know)
ONE time payment. NO MONTHLY SUBSCRIPTION.
Lifetime Access!
BUY NOW to get your FREE gift of 10 days of my Trading Tips emails.

Please note that after purchase you will be sent to a "Thank you" page and you will be asked to register a username on my blog . I can not give you access to the members area and the Trading Course until you email me your username.
"The Tradeshark trading guide is fantastic value in my opinion, I wish I'd discovered it much earlier. Totally recommended" – Laurence Coleman
If you have any questions please email me
Check out the TradeShark tennis trading blog
Why choose tennis for trading?